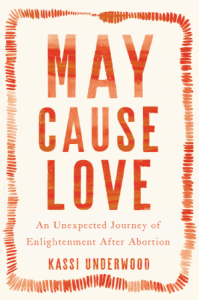 by Kassi Underwood
Memoir (U.S.), 352 pages
Publisher: HarperOne, Feb 14, 2017
ISBN-10: 0062458639
ISBN-13: 978-0062458636
Order: Amazon.com
In this powerful memoir, a fiercely honest and surprisingly funny testament to healing after abortion, a young woman travels across the United States to meet a motley crew of spiritual teachers and a caravan of new friends.
At age nineteen, Kassi Underwood discovered she was pregnant. Broke, unwed, struggling with alcohol, and living a thousand miles away from home, she checked into an abortion clinic. While her abortion sparked her "feminist awakening," she also felt lost and lawless, drinking to oblivion and talking about her pregnancy with her parents, her friends, strangers-anyone.
Three years later, just when she had settled into a sober life at her dream job, the ex-boyfriend with whom she had become pregnant had a baby with someone else. She shattered. In the depths of a blinding depression, Kassi refused to believe that she would "never get over" her abortion. … Dazzling with warmth and leavened by humor, May Cause Love captures one woman's journey of self-discovery that enraged her, changed her, and ultimately enlightened her.